The girl with the dramatic navy hair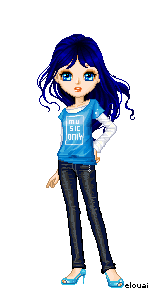 Krystal paced around the confessional room, tugging on a lock of hair and twirling it around her index finger. She was still tensed up with the results and the judges' comments.
"You may think I'm making excuses. Yes, probably indeed I am. Maybe I really shouldn't be here. But tell me...WHAT on Earth does a Class President look like? I mean...you see a goth and you can easily tell it's a goth. Same with a prep or nerd, or jock. What kind of an outfit and pose makes a Class President? Okay, I might have been too dramatic. But what should I do? Just stand there, next to a VOTE FOR KRYSTAL poster, looking pretty? Then they'd probably tell me I wasn't posing at all. Lord..." she sighed, shaking her head. "But, round one is over. I was trying my best and failed this time. Next time I'll have to try harder. Thanks to Letitia I have this chance. Her joining us was like a deus ex machina thing. It wasn't intentional, but she saved me and Suki from getting cut, and I'm not gonna forget that," she nodded. A small smile started to appear on her face again and she left the room.